Timothy Leary's Dead – "Turn Off, Tune Out, and Drop In"
On Thursday, November 15, Mr. William Spencer Reilly, Executive Director of the Sheen Center for Thought and Culture presents "Timothy Leary's Dead – Turn Off, Tune Out, and Drop In." He will discuss how the arts–in particular, telling good stories well–can be a way to evangelize and rebuild Catholic community.
The lecture takes place Thursday (not Saturday!), November 15, 7:30 PM, at the Catholic Center at New York University (238 Thompson St., just south of Washington Square Park). A reception and sung Compline will follow.
RSVP by clicking below. Reservations will be kept until 7:20 PM.
Admission for Sustaining Members: FREE
Suggested donation for non-members: $10
Join us. Meet old friends. Make new friends.
---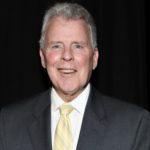 William Spencer Reilly is the Executive Director of the Archbishop Fulton J. Sheen Center for Thought & Culture, a project of the Archdiocese of New York. He has led this new performing arts center from pre-opening, through its gala inaugural celebrations, and now through its first three seasons of theater, talk, film, music, opera, and dance. In less than three years, The Sheen Center has presented more than 150 shows ranging from one-night talks and concerts to longer running theater productions.
Reilly has worked for other Catholic organizations previously, as Executive Producer of The Christopher Awards' Golden Jubilee Celebration; and Executive Director of Fordham University's Sesquicentennial Celebration, a year-long series of events, the longest and largest celebration in the history of the university. Reilly also founded the annual Sober St. Patrick's Day® event with a mission to reclaim the true spirit of the day.
Prior to joining The Sheen Center, Reilly spent 12 years at Odyssey Networks, ending his tenure as the Executive Vice President, Creative Strategies, Production & Partnerships. During his tenure, Reilly was responsible for producing more than 1,000 hours of television, which garnered 30 major awards. He built partnerships with a variety of international broadcasters, expanding the network's footprint, streamlining production costs, and boosting revenue. He served as President and CEO of Lightworks Pictures, an Odyssey Network subsidiary, where four of his films were among the highest-rated movies in the history of the Hallmark Channel. Reilly cut his teeth as the CEO of Sea Lion Productions, Inc., which produced the highest rated outdoor sports program on ESPN.
Earlier in his career, Reilly was the founding Executive Director of BMCC-CUNY's TriBeCa Performing Arts Center and Program Director for The American Theatre Wing (founders of the TONY Awards), where he created the long-running and popular cable TV series, "Working in the Theatre," which became the longest running cable TV show in New York City at 38 years.