Contemporary Catholic Poetry: Imagination Formed by Faith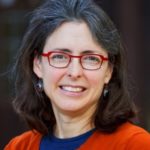 On Saturday, Feb. 23, Dr. Mary Ann Miller presents "Contemporary Catholic Poetry: Imagination Formed by Faith." The lecture takes place Saturday, February 23, 7:30 PM, at the Catholic Center at New York University (238 Thompson St., just south of Washington Square Park). A reception and sung Compline will follow.
RSVP by clicking here. Reservations will be kept until 7:20 PM.
Admission for Sustaining Members: FREE
Suggested donation for non-members: $10
---
If the words "contemporary" and "Catholic" anywhere in proximity to the word "poetry" raise your eyebrows in alarm at thoughts of inaccessibility, little artistic merit or dubious faith, you may find yourself pleasantly surprised.  A growing number of poets are responding to current efforts to bring to the public eye new poems of high artistic quality that are wholly "of our time" and yet situated firmly within the continuum of the rich artistic heritage of the Catholic faith.   Please join Dr. Mary Ann B. Miller to read and examine a selection of poems recently published in the first two issues (or forthcoming in the third issue) of Presence: A Journal of Catholic Poetry.  Miller will discuss how the imaginations of these poets are shaped by, even as they often grapple with, a variety of tenets of the faith, such as God's personal relationship with us both as "Father" and "lover" and our corresponding identities as God's children and spouse, God's grace working through natural means, the importance of our self-examination of conscience, the intercession of the saints, and our participation in a continued relationship between the living and the dead.
---
Dr. Mary Ann B. Miller is professor and chair of English at Caldwell University in Caldwell, NJ, a Catholic institution in the Dominican tradition. She is editor of St. Peter's B-list: Contemporary Poems Inspired by the Saints (Ave Maria Press, 2014), a collection of over 100 poems, written by 70 poets from across the USA, and founding editor of Presence: A Journal of Catholic Poetry, an international annual print publication, in its third year of production. Visit www.catholicpoetryjournal.com.
Miller works to publicize the work of Presence authors by exhibiting the journal at a variety of national conferences, including the annual conference of the Association of Writers and Writing Programs (AWP) and the  biannual conferences on The Future of the Catholic Literary Imagination, sponsored first in 2015 by the Institute for Advanced Catholic Studies at the University of Southern California,  Los Angeles, and second in 2017 by the Curran Center for American Catholic Studies at Fordham University, as well as the first conference devoted to "Trying to Say 'God'," held at the University of Notre Dame in summer 2017.  Other venues have included the biannual Festival of Faith and Writing at Calvin College in Grand Rapids, Michigan, in March 2018.
She frequently teaches an Introduction to Poetry course, in which she offers her students the opportunity to host public readings for local, published poets.  She also teaches a Catholic writers (of literature) course, as well as Victorian, modern, and contemporary poetry.   She received her Ph.D. in English Literature from The Catholic University of America in Washington, DC, and her M.A. from the University of Dallas in Irving, Texas.
---
Contemporary Catholic poetry "conveys God's presence in any number of ways—by exploring the intersection of matter and spirit, by depicting the struggle between belief and doubt, by questioning the faith, being surprised by it, taking joy in it, even finding humor in it."

—Presence's mission statement