This year's Art of the Beautiful series opens on Saturday, October 11th at the Catholic Center at NYU. Rev. John Saward (Oxford University) will discuss The Poverty of the Church and the Beauty of the Liturgy.
The lecture will ask: "Is there a place for liturgical beauty in what Pope Francis has called 'the Church that is poor and for the poor'?" 
Following the lecture and Q&A, there will be a reception and sung Compline, the Church's nighttime prayer from the Divine Office. The event is free. Seating is limited. Please arrive by 7.15pm to ensure a seat.
The series is co-sponsored by the CAS and the Thomistic Institute.
(See Father Saward's bio below)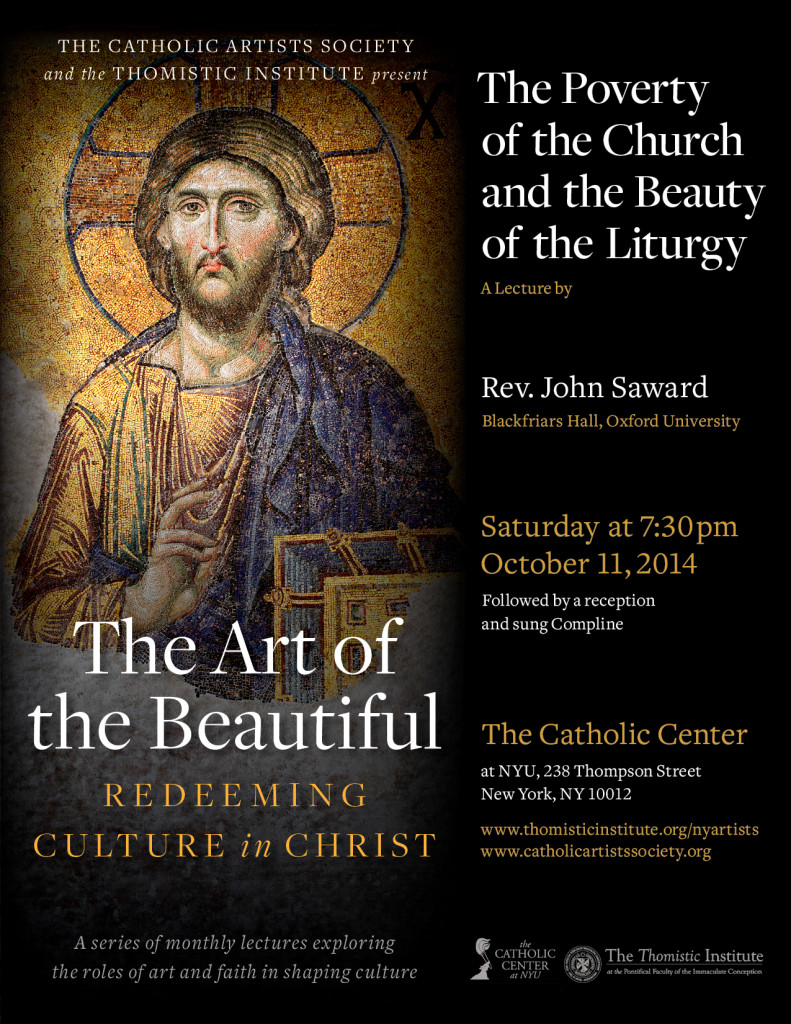 Father John Saward is a Roman Catholic priest and a fellow of both Greyfriars and Blackfriars Hall at the University of Oxford in England. He previously held the posts of lecturer in dogmatic theology at St Cuthbert's College, Durham (1980–1992), Professor of Systematic Theology at St Charles Borromeo Seminary in Philadelphia, PA (1992–1998), Professor of Dogmatic Theology in the International Theological Institute, Gaming, Austria, and Visiting Professor in Systematic Theology and Christology in the same institute.
Father Saward completed a BA in (philosophy and psychology) (St. John's College) and a postgraduate diploma in theology (St. Stephen's House) at the University of Oxford in 1969. In 1973 he completed MA and M.Litt. degrees, also at Oxford, the latter for a thesis on "The Theology of Death". Ordained an Anglican priest in 1972, he was chaplain and a Junior Research Fellow at Lincoln College, Oxford. He was received into the Roman Catholic Church in 1979. He is pastor of the Parish of Sts. Gregory & Augustine in Summertown, Oxford.
Father Saward's published works include The Mysteries of March: Hans Urs von Balthasar on the Incarnation and Easter (1990), Redeemer in the Womb: Jesus Living in Mary (1993), Christ is the Answer: The Christ-centred teaching of Pope John Paul II (1995), The Beauty of Holiness (1996), The Way of the Lamb: The Spirit of Childhood and the End of Age (1999), Cradle of Redeeming Love: The Theology of the Christmas Mystery (2002) and Sweet and Blessed Country: The Christian Hope for Heaven (2005). He has been responsible for the English translations of works by Hans Urs von Balthasar, Pope Benedict XVI and Cardinal Christoph Schonborn.
He was the translator of the English edition of Pope Benedict XVI's The Spirit of the Liturgy.