The Catholic Artist as Custodian of Real Presence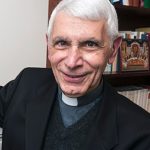 Our final lecture of the season! Saturday, April 13 at 7:30 PM, Fr. Robert P. Imbelli, Associate Professor Emeritus of Theology at Boston College and author of Rekindling the Christic Imagination, presents "The Catholic Artist as Custodian of Real Presence." The lecture will be followed by a reception.
The event takes place at the Catholic Center at New York University (238 Thompson St., just south of Washington Square Park). At 9:15 PM, after the reception, join us for Compline in the chapel.
RSVP by clicking here. Reservations will be kept until 7:20 PM.
Admission for Sustaining Members: FREE
Suggested donation for non-members: $10
In his address to artists in 2009, Pope Benedict XVI said: "the experience of beauty does not remove us from reality, on the contrary, it leads to a direct encounter with the daily reality of our lives, liberating it from darkness, transfiguring it, making it radiant and beautiful." And speaking directly to the artists present in the Sistine Chapel he added: "You are the custodians of beauty … you yourselves are to be heralds and witnesses of hope for humanity!"
One way to speak of the "darkness" that afflicts many is that of the absence of final meaning and thus of ultimate hope. The artist illuminates the darkness by offering signals of transcendence, intimations of presence and purpose, that nourish and sustain.
For the Catholic artist these "hints and guesses" (T.S. Eliot) find their foundation in the real presence of Jesus Christ in the Eucharist who calls believers to embrace a Eucharistic way of life.
The Catholic artist whose imagination is kindled by the real presence of Christ is called, like Gerard Manley Hopkins, to be an advocate and custodian of real and transfiguring presence in the world.
Fr. Robert P. Imbelli, a priest of the Archdiocese of New York, studied in Rome during the years of the Second Vatican Council and was ordained there in 1965. He received his S.T.L. from the Gregorian University (Rome) and obtained his Ph.D. in Systematic Theology from Yale University in 1972.
He has taught theology at the New York Archdiocesan Seminary and at the Maryknoll School of Theology; and has been visiting lecturer at Princeton Theological Seminary and Fordham University.
From 1986 to 2015 Father Imbelli taught Systematic Theology at Boston College, and is currently Associate Professor of Theology Emeritus. He was "Visiting Scholar" at Seton Hall University in Spring 2017 and at St. Joseph's Seminary, Dunwoodie, in Spring 2018.
His numerous articles and reviews have appeared in such journals as Theological Studies, Communio, Worship, First Things, Commonweal, and America.
Father Imbelli contributed the article on "Holy Spirit" to The New Dictionary of Theology, wrote the "Foreword" to Cardinal Avery Dulles, Church and Society (Fordham: 2008), and edited the volume, Handing on the Faith: the Church's Mission and Challenge (2nd printing: Crossroad: 2017).
His book, Rekindling the Christic Imagination: Theological Meditations on the New Evangelization, was published by Liturgical Press in 2014 and won a first place award from the Catholic Publishers' Association. His lecture series, "Christic Imagination: How Christ Transforms Us," was issued in 2018 by "Now You Know Media."