The Catholic Artists Society invites you to a Lenten Evening of Recollection April 1, 6:30 PM, at the beautiful Chapel of the Sacred Heart, Regis High School. Fr. J. Patrick Hough, S.J., will offer a reflection entitled "The Jesuit Examen: Practical and Timely Help for Lent."
The evening will include opportunity for confession, Eucharistic Adoration, and Benediction. A reception will follow. The suggested donation is $10.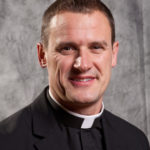 Fr. Patrick Hough, S.J. is a Jesuit priest currently assigned at Regis High School in New York City. A native of the U.K., Fr. Hough has lived in England, Australia, Italy and, since 2002, in the United States. He has graduate degrees from Leeds University, the Gregorian University in Rome, Fordham University, and the Jesuit School of Theology in Berkeley, California. Fr. Hough has been a consummate traveler all of his life and has worked in various Jesuit High Schools around the world, teaching history, theology, and music. In 2011 he was asked by National Geographic to be the presenter of a major documentary that investigated the authenticity of the Crown of Thorns. He enjoys rowing and has coached extensively. Fr. Hough is a pianist, organist, and conductor, and has performed at the Kennedy Center in Washington, D.C. and the Barbican in London.