In the Areopagus: The Catholic Artist in a Pagan Age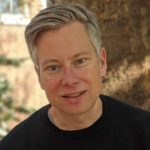 On Tuesday, February 18, Dr. James Matthew Wilson presents "In the Areopagus: The Catholic Artist in a Pagan Age."
One of the most remarkable chapters of our history consists of Saint Paul's preaching in the Areopagus of Athens. The Jew came to preach Christ to the great pagan philosophers of the Hellenic world. Saint Paul provides us even now an example of how the Catholic must address the age, not simply engaging those outside the Church, but drawing together all that is best of any and every civilization to speak with power to the deepest yearnings of the human intellect. Modern conceptions of art as "secular" or "autonomous" perceive, but misunderstand, this principle. James Matthew Wilson will consider the example Saint Paul has set for his own work as a poet.
James Matthew Wilson is the author of nine books, including, most recently, The River of the Immaculate Conception (Wiseblood, 2019). Recipient of the 2017 Hiett Prize from the Dallas Institute of Humanities and Culture, he serves as poetry editor of Modern Age magazine, director of the Colosseum Institute, and editor of Colosseum Books. He is associate professor of Humanities and Augustinian Traditions at Villanova University.
The lecture takes place at the Catholic Center at New York University (238 Thompson St., just south of Washington Square Park).
Reception: 6:00 PM
Lecture: 7:00 PM
Admission for Sustaining Members: FREE
Suggested donation for non-members: $10
DONATE by clicking here.