Can a Movie Change Your Life?

The Art of the Beautiful series returns with Los Angeles-based filmmaker and producer T.J. Berden (PAUL, APOSTLE OF CHRIST; FULL OF GRACE). Reception at 6 PM. Lecture at 7 PM.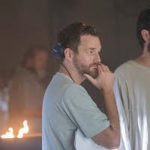 T.J. Berden worked in grassroots marketing campaigns on films such as THE STONING OF SORAYA M and TREE OF LIFE before embarking as co-writer and producer on a series of films that portray biblical themes and characters in a deeply artistic, refreshing, and engaging manner, a genre he has referred to as "sacred-arthouse."
Berden's work has achieved critical and box office success, and the attention of Sony Pictures, which released his last film, PAUL, APOSTLE OF CHRIST.
He is currently producing a new limited television series and a documentary on Brazil's revolutionary APAC prison system. He is releasing RESTORED: STORIES OF ENCOUNTER, a documentary series with ODB Films, and assistant producing Frank Wildhorn's Broadway musical adaptation of the film classic, THE SONG OF BERNADETTE.
T.J. will speak about the work of a film producer, the process of filmmaking, reaching new audiences, and hope for the future of cinema. We'll screen scenes from his latest work.
Reception: 6 PM
Lecture: 7 PM
Location: Catholic Center at NYU (238 Thompson St.)
Admission for Sustaining Members: FREE
Suggested donation for non-members: $20