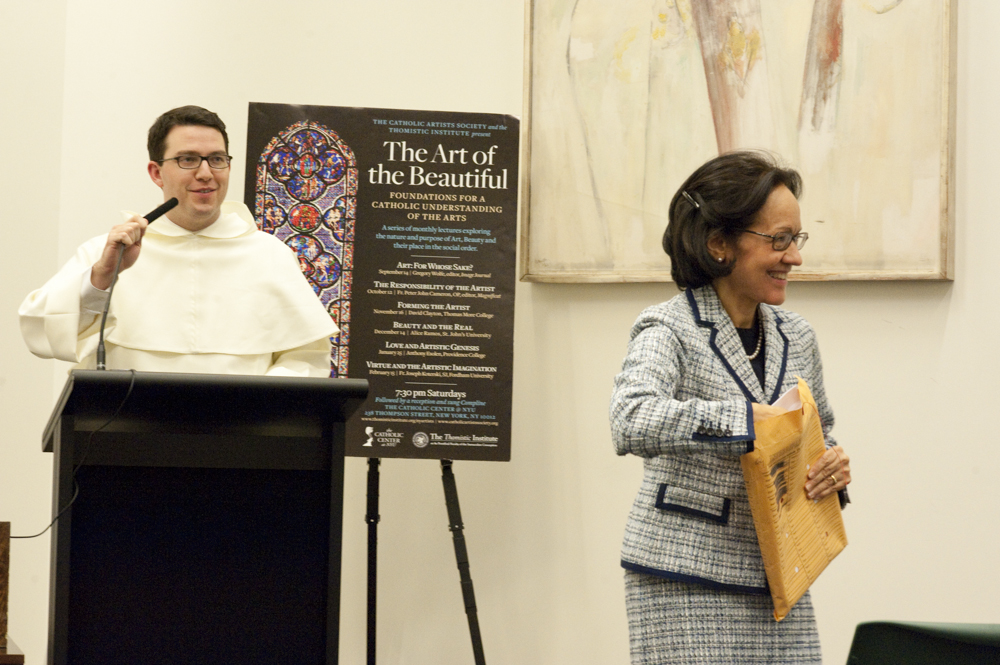 Father Austin Litke, OP of the Catholic Center at NYU introducing Professor Alice Ramos (photo: George Goss) 
Many thanks to all who braved the snow and cold to attend last Saturday's Art of the Beautiful lecture with Professor Alice Ramos. Those who made it were treated to an excellent presentation on Beauty and the Real. Thanks as always to our Dominican hosts and co-sponsors at the NYU Catholic Center and the Thomistic Institute!
The full text of Professor Ramos' talk is below.
Summary: In a world of cognitive and moral relativism, where the true and the good have been called into question, we might also question Dostoyevsky's claim that "Beauty will save the world". Drawing on the works of Plato and St. Thomas Aquinas, as well as Maritain's The Responsibility of the Artist and Iris Murdoch's The Sovereignty of Good, Professor Ramos gives an account of what Beauty is and how it and our culture may be redeemed by a recovery of Truth and Goodness in the arts.
Click this link to download the text of Professor Ramos lecture: Professor Alice Ramos lecture_Beauty and the Real

Professor Ramos provided handouts with this suggested bibliography at the lecture: Plato's Symposium, Phaedrus and the Republic;  questions relating to beauty and the good in St. Thomas' Summa Theologiae (ST I, q. 5, a. 4, ad 1; ST I, q. 39, a. 8, resp; ST I-II, q. 27, a. 1, ad 3); Iris Murdoch The Sovereignty of the Good (NY: Schocken Books, 1971); Josef Pieper, Leisure, The Basis of Culture (South Bend, IN: St. Augustine Press, 1998); Cardinal Joseph Ratzinger, "The Beauty and the Truth of Christ", L'Osservatore Romano, English edition, November 6, 2002; Roger Scruton, Beauty (Oxford UP, 2009). Also Professor Ramos' edited book, Beauty, Art and the Polis (American Maritain Association, 2000, distributed by CUA) and her more recent Dynamic Transcendentals: Truth, Goodness, and Beauty from a Thomistic Perspective (Washington, DC: The Catholic University of America Press, 2012)
The next Art of the Beautiful event will be Love and Artistic Genesis, a presentation by Anthony Esolen, at 7.30pm, Saturday, January 25th at the Catholic Center at NYU. We look forward to seeing you there. Wishing all our members, patrons and friends a blesséd Advent and a joyous Christmastide!